A major source of confusion regarding the Store threshold value used by Intelligent Message Filter (IMF) is the IMF UI itself. This is documented in
Intelligent Message Filter release notes
.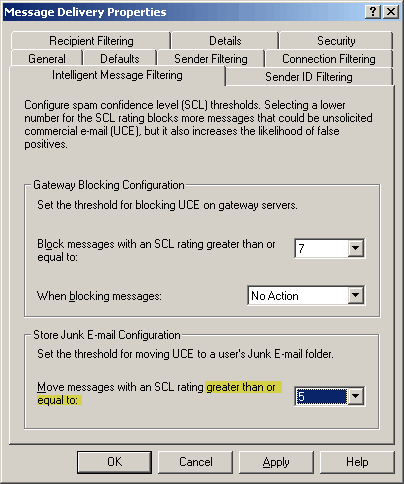 What it says:
In
ESM
|
Global Settings
|
Message Delivery
| properties |
Intelligent Message Filtering
tab, the Store Junk E-mail Configuration section reads
Move messages with an SCL rating

greater than or equal to
. If you never read the Release Notes - and I know many of us don't, particularly in smaller environments where IMF is more popular - you follow what the UI says and assume setting a store SCL fo 6 would makes messages with a SCL of
6 or higher
to be moved to the Junk Mail folder.
What it does:
The Release Notes clarify this - the UI should say "Move messages with an SCL rating
greater than
". Only messages with a higher SCL than that value are moved to Junk Mail.
Apparently, Exchange Server 2003 SP2 did not fix this either and SP2 Release Notes make no mention of this. For many Exchange environments that did not use IMF v1 - a separate download - SP2 is their first encounter with IMF.
Related Posts:
-
TechEd 2007: Notes from the BOF Session on Fighting Spam With Exchange Server 2007
-
Exchange Server 2003 SP2 and IMF
-
Troubleshooting IMF: Important performance counter
-
IMF: Archiving spam
-
IMF: Where's the whitelist?
-
IMF does not scan messages larger than 3 Mb
-
IMF: Updates not showing up in Add/Remove Programs?
-
Intelligent Message Filter (IMF) v1 download removed from microsoft.com
-
Update: Manually removing IMF v1
-
IMF: How to exclude recipients from IMF filtering
-
IMF: Gateway thresholds per server