So far we've known that Exchange Server 2003's content filter - the Intelligent Message Filter (IMF), uses
Gateway
and
Store
thresholds and (Gateway) action that are configured once in
Global Settings
|
Message Delivery
| properties |
Intelligent Message Filtering
. These global settings apply to all SMTP Virtual Servers on all Exchange Servers in the Org that have IMF enabled.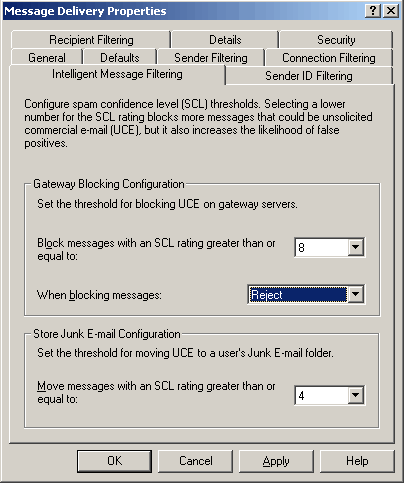 Evan Dodds reveals the ability to configure per-server Gateway threshold and action for IMF in "
Configure IMF gateway settings per server
".
To enable the per-server Gateway thresholds, two registry values need to be created as follows:
Registry Key:
HKLM\Software\Microsoft\Exchange\ContentFilter

Value:
GatewayThreshold
Value type:
REG_DWORD
Value data:
0-9
Value:
GatewayAction
Value type:
REG_DWORD
Value Data:
0x0
= No Action
0x1
= Delete
0x2
= Reject
0x5
= Archive
The above method allows you to control the Gateway threshold and action per server.
You cannot control the

Store

threshold per server
.
So the answer is, yes, it's possible using this undocumented registry hack, and Evan also suggests when one may need to use it.