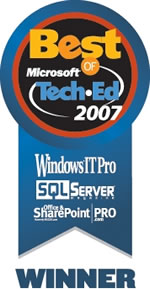 An interesting week in Orlando, as
TechEd weeks
generally are. The Zenprise team returned home with the Best of TechEd 2007 award! That's 2 years in a row -
first time a start-up has won Best Of TechEd two years in a row
! What's a cause for cheer for most of us - this time it's in the
Mobility category
, for
Zenprise for BlackBerry
! (Last year,
Zenprise for Exchange
won the Best of TechEd in the
Messaging category
- read previous post "
Zenprise wins Best Of TechEd 2006 award
").
It was great to see customers visibly excited about Zenprise for BlackBerry, and the new
User Dashboard feature in Zenprise 3.1
(in beta right now, this is what attendees saw at our TechEd booth last week)
promises to make the job of IT/messaging/mobility help desks a lot easier. For Exchange, the User Dashboard provides a quick snapshot of all the important user properties and real-time performance stats of a user's mailbox server. For BlackBerry, the User Dashboard shows BlackBerry Enterprise Server and BlackBerry device-related properties and performance stats, and also an end-to-end availability state for a particular user. The dashboard also enables instant testing of a user's device.
The rapid-fire software release cycles of our times means we're working on some exciting new features for v3.2, in our mission to go where no Exchange and BlackBerry monitoring & troubleshooting products have gone before. :)
Labels: Events, Mobility - BES/ActiveySync, Newsbytes, Tools, Zenprise