Microsoft released Exchange 2013 Preview earlier this week, along with Microsoft Office 2013, Microsoft SharePoint 2013 Preview, and Microsoft Lync 2013 Preview. Check out the following resources:
Note, this is a preview version, not the final product release. As with any pre-release versions, you shouldn't install it in a production environment.
One of the first questions many Exchange folks will have right of the bat is:
Where is the familiar Exchange Management Console (EMC), the GUI management tool introduced in Exchange Server 2007 and also found in Exchange Server 2010?
The answer: There isn't! That's right – Exchange 2013 Preview does not have the traditional, MMC-based management tool.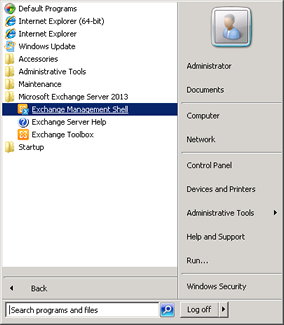 Figure 1: You won't find the EMC in the Microsoft Exchange Server 2013 program group on your server's Start menu
There's the Exchange Management Shell (EMS). Does this mean you can only manage Exchange 2013 Preview using the Shell? No!
Enter the Exchange Administration Center (EAC), a new web-based unified console that allows you to manage Exchange Server 2013 (on-premises), Exchange Online Preview organizations and hybrid deployments. You don't need to install any admin tools on your management computer/workstation to use the EAC. In fact, the EAC provides rich cross-browser and cross-platform support so you can use your browser of choice (see list of supported browsers/platforms).
You can access the EAC by going to http://<serverFQDN>/ecp. If you've been using Exchange 2010, the URL may sound familiar – it belongs to the Exchange Control Panel (ECP). In Exchange 2013 Preview, the same familiar URL lands you to the new web-based admin console that's packed with functionality.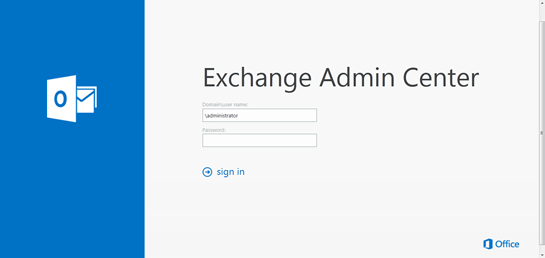 Figure 2: The Exchange Administration Center (EAC) login page at http://server.domain.com/ecp (see larger image)
When you first log in to the EAC (if you've never logged into your mailbox), you're presented with the familiar language/locale and timezone setting page.
If you've been using EMC in Exchange 2010 or Exchange 2007, you'll be right at home with the EAC. Even if you're not, it's an easy web-based tool you can navigate through without much effort.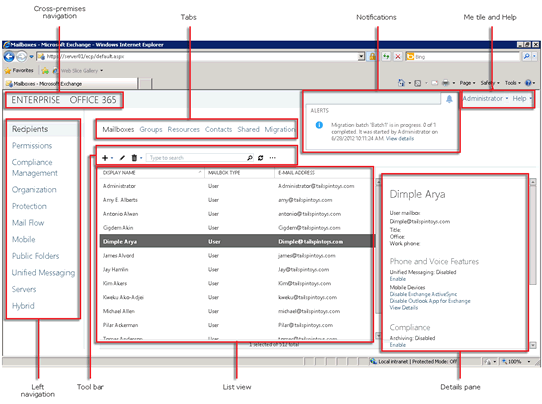 Figure 3: The Exchange Administration Center (EAC) in Exchange 2013 Preview (see larger image)
The familiar choices in navigation bar include:
Left navigation
Tabs
Recipients
Mailboxes | Groups | Resources (resource mailboxes) | Contacts | Shared (mailboxes) | Migration
Permissions
Admin Roles | User Roles | and in this Preview build – OWA Policies.
Compliance Management
In-Place Discovery (Multi-Mailbox Search in Exchange 2010) & Hold (In-Place Hold, new functionality to replace Litigation Hold aka

Legal Hold

, which is deprecated but still available in this release) |

Auditing

(mailbox audit logging & admin audit logging reports) | Data Loss Prevention (new information protection feature) | Retention Policies | Retention Tags |

Journaling

Organization
Sharing (Federation Trusts) |

Apps

(new feature) |

Address Lists

Protection
Anti-Malware (new feature)
Mail Flow

Rules

(transport rules) |

Delivery Reports

|

Accepted Domains

|

Email Address Policies

|

Receive Connectors

|

Send Connectors

Mobile

Mobile Device Access

(Allow/Block/Quarantine mobile devices) |

Mobile Device Policies

(ActiveSync Mailbox Policies)
Public Folders
Public Folders |

Public Folder Mailboxes

Unified Messaging

UM Dial Plans

|

UM IP Gateways

Servers

Servers

|

Databases

(from entire org) |

Database Availability Groups

|

Virtual Directories

(manage all CAS virtual directories, including AutoDiscover, EAS, ECP – used by EAC, EWS, OWA and PowerShell) |

Certificates

Hybrid

Setup

(Setup a Hybrid deployment with Office 365)
So that's a quick run down of the elements in the EAC in Exchange 2013 Preview. You can learn more in Exchange Administration Center in Exchange 2013 Preview documentation.
Remember, Exchange 2013 Preview, and therefore the EAC, is a work in progress. The navigation elements and their locations described above may go through changes by the time Exchange 2013 ships.
Have you checked out the EAC? What do you like about it? Things that should be changed?
Check out Managing The New Exchange, an in-depth look at the Exchange Administration Center on the Exchange team blog, and FAQ: Exchange Administration Center in Exchange 2013 Preview documentation.