This is one of the more frequently asked questions in different forums and still a major annoyance – how do I send as an alternate address (aka proxy address or alias)?
In most organizations, users have multiple email addresses to meet business requirements such as multiple business units, business names and domain names, mergers, acquisitions or spin-offs, or multiple standardized address formats. Exchange Server and Exchange Online make it easy to add additional email addresses for mailboxes or other types of recipients using these two methods:
Automatic, policy-based email addresses Use

Email Address Policies

in Exchange Server 2013/2010/2007 and Exchange Online for scenarios where all or many users require multiple standardized email addresses, for example:

FirstName.LastName

@yourdomain.com and

FirstInitialLastName

@yourdomain.com. In Exchange 2003, this is done using

Recipient Pollicies

Manually add email addresses to a single user by using the

E-mail Addresses

tab in the Exchange Admin Console (EAC) in Exchange 2013/Exchange Online, the EMC in Exchange 2010/2007, or Active Directory Users & Computers (ADUC) in Exchange 2003. See HOW TO: Add additional email addresses to a mailbox.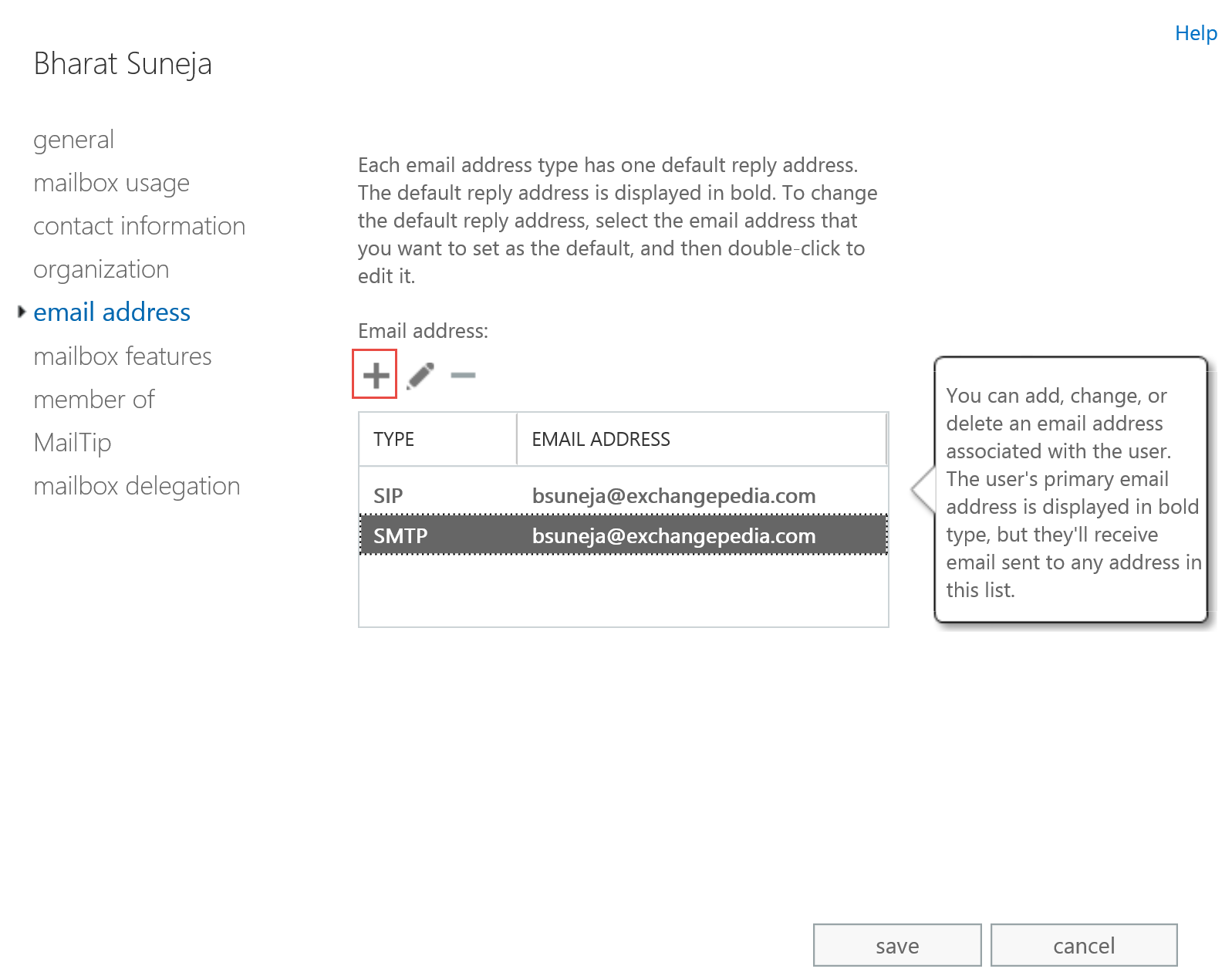 Figure 1: Add an email address on the email address page in Exchange Admin Center (EAC)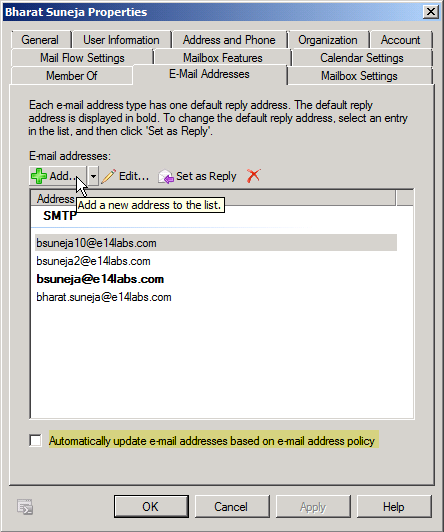 Figure 2: You can add additional e-mail addresses for a mailbox from the E-mail Addresses page in mailbox properties
Receiving and sending messages using additional email addresses
The email addresses are stored in a recipient's proxyAddresses attribute in Active Directory. You can specify one email address as the user's primary address. The other email addresses are commonly known as aliases or proxy addresses. Recipients receive inbound email addressed to any of the email addresses in that attribute. (To receive messages from external senders to your servers, you'd still need the registered domain name(s), MX record(s) pointing to your server(s), firewall rule to allow inbound SMTP traffic to your server(s), et al).
You can use any of your email addresses to send a message, but thanks to the voodoo magic that occurs between Outlook and Exchange, the From: address automatically gets resolved to your primary email address.
But sending messages using any of those proxy addresses is a different story. When composing a new message, you can specify any of your email addresses (which exist in the proxyAddresses attribute). However, thanks to the voodoo magic that occurs between Outlook and Exchange, the From: address you specify automatically gets resolved to your Display Name (or more accurately, your user account) and gets sent using your primary email address. This is the address displayed using (upper-case) SMTP: in the E-mail Addresses tab.
This behavior also manifests itself when replying to a message that was received on an address other than the primary email address.
How do Outlook and Exchange behave?
Outlook 2010 allows you to specify a different from address when composing a message. The following screenshots are from Outlook 2010 but Outlook 2013 (and OWA) behave the same way with email aliases or proxy addresses.
The

From:

field isn't visible when composing a new message. To make it visible, go to the

Options

section and click

From

.

Click

From

and select the alternate email address.

If the address isn't available in the list, select

.

In the

Send From Other E-mail Address

window, type the email address in the

From

field.

The result: Outlook 2010 changes the From address to the default email address:

Workarounds for sending mail using a proxy address
There are workarounds for sending email using a proxy address or alias, but they are as annoying as the problem itself.
Using additional mailbox or recipient(s)

Create a new mailbox
Ensure this address is set as the primary address of the new mailbox.
Assign the user Send As permission on the new account(s)
When sending a new message, or replying to a received message, the user must manually populate the From: field in Outlook with the Display Name or SMTP address (or any other attribute that can resolve to the new account)
Additionally, if you're using a mailbox-enabled account for this purpose, the user can also open the additional mailbox in Outlook if they're assigned Full Access mailbox permission to this additional mailbox, along with their primary mailbox. See HOW TO: Grant Full Mailbox Access permission.
Alternatively, you can also redirect or forward inbound mail to the user's primary mailbox by modifying Delivery Options in the properties of new recipient(s) created for this purpose.

Using SMTP clients

SMTP clients such as Outlook Express can be configured to send using the alternate email address. This can be equally annoying because every time a message needs to be sent as an alternate address, you will need to fire up Outlook Express (or your SMTP client of choice) to send the message.

Using Address Rewriting

On Exchange 2010/2007, you can use address rewriting. See Understanding Address Rewriting in Exchange 2010 docs. On Exchange 2003/2000, you can use the Microsoft Exchange Server Address Rewrite Tool to rewrite email addresses. Of course, these are administrator-controlled and applied on transport servers, so they apply universally to all messages that match rule conditions, and are intended to be used in scenarios such as mergers or company name and domain name changes that happen across an organization.

IvaSoft ChooseFrom – an Exchange Server add-on

IvaSoft makes nifty utilities for Exchange/Outlook that allow you to accomplish tasks that Exchange/Outlook do not allow you to do natively. Their ChooseFrom utility can be used to choose from any address listed in the proxyAddresses attribute, without the pain of the workarounds mentioned above. It uses a transport agent on Exchange server, and is licensed per server.

ChooseFromOWA, another tool from IvaSoft, allows you to use Outlook Web Access (OWA) in Exchange 2007/2010 to send messages using any of your proxy addresses. It also uses a transport agent.

Needless to say, you can't install these server-side add-ons in Exchange Online.

Proxy Manager – an Outlook add-in




If you don't want to install an add-on on Exchange Server, check out Proxy Manager, an Outlook add-in created by Exchange MVP Dmitry Streblechenko.

Proxy Manager allows you to choose a proxy address when composing or replying to messages. It uses SMTP to send messages. Like most SMTP clients, it requires a one time configuration where you select or specify an SMTP server. The good part is once you do this it's easy to send messages using any of your proxy addresses from within Outlook, without having to fire up another email client.
There's no solution to this issue in Exchange Server 2007/Outlook 2007 as well (or in Exchange 2010/Outlook 2010 and Exchange 2013/Outlook 2013… this post is updated every few years). IvaSoft has released ChooseFrom for Exchange Server 2007/2010 and ChooseFrom for Microsoft Exchange Server 2013 v 1.0.0.10.
(As with most third-party software, install and test in a lab environment before you decide to install it on a production server.)