If you have Microsoft Outlook 2007 installed on Windows Server 2008
Windows Search
service not being installed and that Outlook cannot provide fast search results when using the Instant Search feature.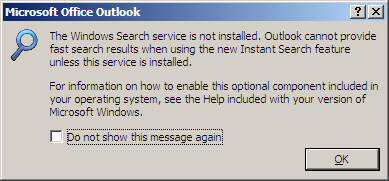 Outlook also displays a clickable notification under the Instant Search box.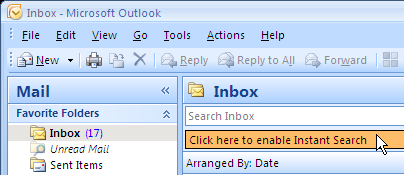 Clicking on the notification brings up the same dialog box shown in Figure 1.
In Online mode, Outlook 2007 uses
Exchange Search
for searching the mailbox - the mailbox is not cached locally.
In Cached Mode, it uses
Windows Search
service to index messages in the cached copy of your mailbox. Windows Vista includes Windows Desktop Search (WDS) out-of-the-box. Windows Server 2008 and Windows XP do not.
Of course, you can disable the prompt to enable Instant Search in Outlook by going to
Tools
|
Options
|
Other
tab |
Advanced Options
, and unchecking
Show prompts to enable Instant Search
. But if you live in a high-volume email environment and have a fairly large mailbox to show for it, Search is an invaluable tool!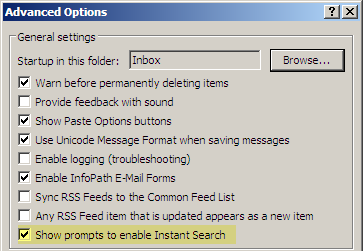 Install Windows Search service
To install the Windows Search service on Windows Server 2008, use the following command:
ServerManagerCmd -i FS-Search-Service
Or install it using the Server Manager console using the following procedure:
Start Server Manager

Click Roles in the navigation tree on the left

Select Add Role in the Roles Summary section

Select the File Services role and click next

Select the Windows Search role service

After Windows Search is installed, when you click the notification in Outlook, it acknowledges Windows Desktop Search has been installed, and prompts you to restart Outlook to enable Instant Search.
Meanwhile, Windows Search indexes your email and documents in the background. If you use Instant Search before indexing is complete, it returns results from the messages it has already indexed, and notifies you of number of items still to be indexed.
Windows Search 4.0 is the more current version of Windows Search. Download: x64 | x86 .
Labels: Administration, Longhorn Server, Outlook