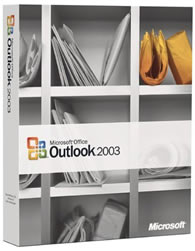 If there is a legacy client for Exchange 2010, it must be Outlook 2003. Released in October 2003, Outlook 2003 is two versions and almost eight years old! When running in online mode, Outlook 2003 relies on Exchange Server to notify it of new messages by sending UDP notifications. If UDP notifications aren't received, Outlook 2003 falls back to polling Exchange for new mail at regular intervals — 60 seconds by default.
Outlook 2003 clients running in Cached Exchange Mode do not require UDP notifications.
Due to the lack of UDP notifications in Exchange 2010, organizations running Outlook 2003 in online mode run into issues described in Microsoft Support article 2009942. Of course, workarounds exist, the first one being switching your Outlook 2003 clients to Cached Exchange Mode to avoid the issue. You can also adjust the polling interval to suit your needs.
Close on the heels of Personal Archives support in Outlook 2007 (see Yes Virginia, there is Exchange 2010 archive support in Outlook 2007), Microsoft announced UDP notification support will be added back to Exchange 2010 via Rollup Update 3 for Exchange 2010 SP1. Microsoft expects to release the update in March. The UDP support enables older clients to happily coexist with a newer version of Exchange Server, which is sure to find favor with Microsoft customers who can't switch legacy clients to Cached Exchange Mode. More in UDP Notification Support Re-added to Exchange 2010.
Nevertheless, as Tony Redmond sums up in Using Outlook 2003 with Exchange 2010, it's unlikely Microsoft will backport many of the other great features introduced in Exchange 2010 that require Outlook 2010, such as MailTips and Retention Tags.
Continuing the trend of shipping new features via service packs, Microsoft also announced the new GAL segregation feature in Exchange 2010 Service Pack 2. More in GAL Segmentation, Exchange Server 2010 and Address Book Policies.