In Exchange 2010, you can provision Personal Archives for your users. A personal archive, or an archive mailbox, is an additional mailbox where users can move older messages or messages that they don't need to access frequently but may still want to retain for a longer period. You can also apply a Retention Policy to mailboxes to have old email moved to the archive after a certain period. Moving older email out of the primary mailbox keeps it smaller and faster, although larger mailboxes aren't a concern according to Microsoft's design goals for Exchange 2010 and its large mailbox vision, which emphasizes large mailboxes (10s of Gigs) at a low cost, with great performance and high availability.
In Exchange 2010 RTM, the only option to provision an archive was on the same mailbox database (MDB) where the user's primary mailbox resided. In Exchange 2010 SP1, these choices widen significantly. You can create (or move) a user's archive mailbox:
on the same MDB as the primary mailbox
on a different MDB on the same Mailbox server
on a MDB on another Mailbox server (running Exchange 2010 SP1)
in the cloud. (As the EMC suggests, you can provision a user's archive mailbox in the cloud, thus outsourcing the archiving business to Microsoft's Exchange Online service, or perhaps other service providers.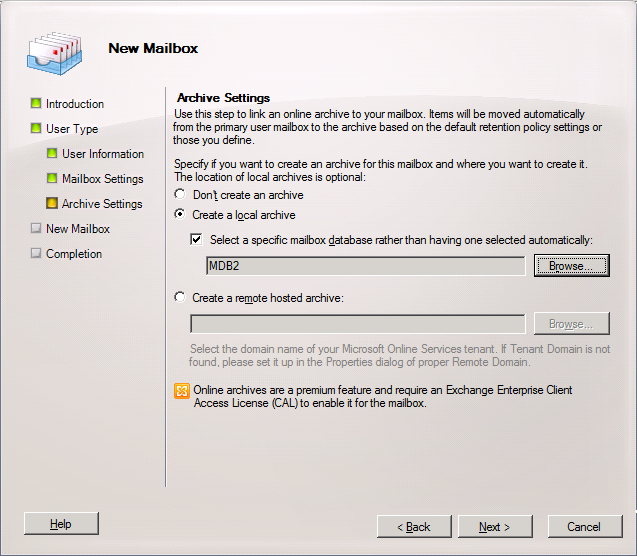 Figure 1: The New Mailbox wizard in EMC lets you create an archive mailbox in the same mailbox database as the user's primary mailbox, a different database, or in the cloud.
Accessing Personal Archives using Microsoft Outlook and Outlook Web App
One of the key questions most Exchange folks evaluating or implementing Personal Archives ask is, how can users access the archive? Of course, if your users are using the latest and greatest in Office/Outlook awesomeness (aka Outlook 2010), this is not an issue. In Outlook 2010, a user's archive mailbox automagically shows up, thanks to AutoDiscover.
When a user starts Outlook 2010 for the first time, it connects to the AutoDiscover web service running on a Client Access server and retrieves the required settings, including the location of the user's mailbox. Outlook uses this information to automatically create an Outlook profile for the user. In Exchange 2010, AutoDiscover also provides information about the archive mailbox so Outlook 2010 can access it without any additional configuration. More about AutoDiscover in Understanding the Autodiscover Service and the AutoDiscover whitepaper (Exchange 2007).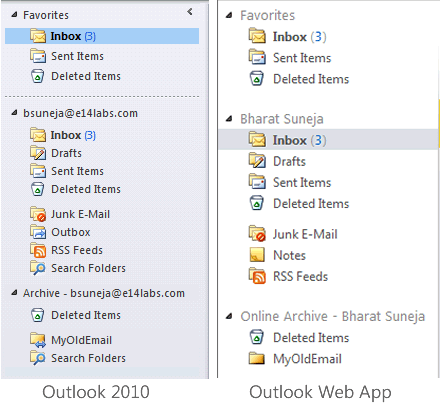 Figure 1: A user's Personal Archive appears as another mailbox in Outlook 2010 and Outlook Web App
Users can access their archive mailbox using Outlook 2010 in Cached Exchange Mode, but unlike the primary mailbox, the archive isn't cached locally on the user's computer. When not connected to Exchange Server, the archive mailbox isn't available.
If your organization's not on Office 2010/Outlook 2010, your users can still access their archive mailbox using Outlook Web App (formerly Outlook Web Access). Microsoft also announced that Outlook 2007 will be able to access the archive in the Exchange 2010 SP1 time frame (see Yes Virginia, there is an Exchange Server 2010 SP1 on the Exchange team blog).
Mobile devices and the archive
Mobile devices can't access the archive mailbox. Yes, many mobile devices (including iPhones post-iOS 4) can access multiple Exchange mailboxes using Exchange ActiveSync (EAS). But this access is limited to primary mailboxes.
More importantly, should mobile users have really old email synced to their devices? Given that by default mobile devices only download a few days worth of email, have limited storage, and even more limited or metered and expensive network bandwidth, it's not very efficient to allow access to sync archived data to mobile devices. Generally users won't have much use for presumably older email that resides in the archive.
If synchronizing archive mailboxes to mobile devices isn't terribly efficient or useful, how about the ability to search an archive mailbox? When Outlook 2010 and OWA users search their mailbox, search results include email from the both their mailboxes, the primary and the archive. This functionality isn't available to mobile devices.