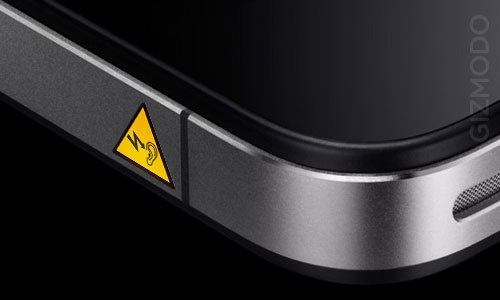 Photo courtesy Gizmodo
Ironically, the iPhone 4's antenna design flaw is increasingly being labeled the "Grip of Death"— a play on the proverbial term "Blue Screen of Death" (BSOD), used for the blue screen generated when Windows operating systems from a few generations ago crashed. (Yes, those ancient BSODs — when was the last time you saw one?)
What can probably add more insult to injury, Apple's latest and greatest iPhone 4 is now being called Apple's Vista (Is the iPhone 4 becoming the Windows Vista of Apple? on Seeking Alpha, iPhone 4 … Apple's own "Vista" moment in history on ZDNet). In case you forgot, Windows Vista is the Microsoft OS that can be attributed to be responsible for Apple's famously cute "Hi, I'm a Mac" ad campaign, and related Vista jokes.
A hardware design flaw – that can't be fixed by a software update
The fact is, the iPhone 4 suffers from a hardware design flaw which can't be fixed by a software update or the cosmetic lowering of cell phone signal bars so they'd "more accurately reflect" the correct signal levels. Apple probably knows that, but in typical Apple fashion it would neither admit to a software bug (the iPhone 4 and its older siblings, the iPhone 3GS and 3G, showing a few more bars was merely due to Apple using the wrong formula – see Letter from Apple Regarding iPhone 4), the word "bug" doesn't appear once!) nor a hardware design flaw (as is common knowledge – see The iPhone 4 is defective by design … get used to it! on ZDNet.com, and something company insiders seem to have admitted to).
Adrian Kingsley-Hughes on ZDNet:
But none of this will fix the underlying issue … that the problem is a design issue. Putting the antenna on the outside and make it part of the chassis of the handset might be revolutionary, but it's a case of two steps forward, one step back. Yes, the antenna does offer better overall reception, but under certain circumstances the antenna performs much worse than for previous iterations of the iPhone. Period.
AppleCare: How Apple Cares
Over at Gizmodo, Jesus Diaz reports calling Apple 3 times, and confirming each time that the forthcoming iOS 4 update won't solve the iPhone 4 antenna issue.
AppleCare has confirmed what we already knew: The incoming software update won't fix the iPhone 4's transmission and reception problems. They acknowledged the antenna problem exists, offering the same solution as before: Buy a case or hold the iPhone differently.
And:
Their response was immediate and unequivocal, the same in the three cases:

There is an antenna interference problem when you hold the iPhone 4 in a certain way (the tests by Anandtech and many demonstration videos in the internet show that the signal drop will happen every time when you touch the phone's dead spot, on the left bottom corner).
One solution is to hold the phone differently, avoiding to touch the left bottom corner of the phone (coincidentally, this is how models hold the iPhone 4 in most of Apple's promotional material).
The other other solution is to

buy a case or one of Apple's $30 bumpers

(we are hosting a petition to ask Apple for free cases. You can sign it here).

The incoming software update will not fix this antenna problem, only change the way the phone displays the available signal

, make it more accurate.
More in AppleCare: The iPhone 4 Update Won't Solve the Antenna Problem on Gizmodo.
Interestingly, Apple customer service reps have been instructed to "not appease customers" by offering them a free Apple iPhone Bumper, available for $29 from the Apple Store. More in "Leaked: Apple's internal iPhone 4 antenna troubleshooting procedures"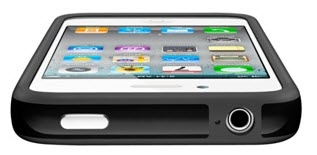 Meanwhile, users continue to suffer, and adjust to the new realities of owning an iPhone 4. Having coughed up some $$ for iPhone 4 nirvana, and retied the umbilical cord with AT&T for another 2 years, it'll be interesting to see what loyal Apple customers choose to do:
Many will follow Apple's "Hold Different" mantra, and learn to hold their new iPhones only in places where Apple says it's safe to hold them.
Many will lose a few signal bars, or have calls dropped. These users will now be able to blame Apple as well, in addition to Apple's favorite carrier AT&T, the original "More Bars In More Places" carrier.
Many will buy the Apple bumper for $29 from the Apple Store
Some customers may return their phones for a full refund within 30 days and call it a day with Apple— the good news is Apple will waive the restocking fee!
Of course, the current brouhaha over the iPhone 4 antenna issues isn't going to impact iPhone 4 sales or Apple's business significantly. However, it does bring into focus aspects of Apple's corporate persona, other than that of a company obsessed with "insanely great" product design and user experience— an aspect that has gained added importance given Apple's new-found status of the most highly valued technology company in the world.
As Apple may soon realize, user experience extends far beyond simplistic user interfaces and into the realm of a company's attitude and interaction with customers. Unfortunately, there's no app for that.