When the Outlook team launched the Outlook Social Connector for Outlook 2010, LinkedIn and MySpace were the only 2 social network providers supported. Like most users my first reaction was "What about Facebook?" The Outlook Social Connector is a great addition to Outlook, but the lack of Facebook— without a doubt the most popular social network today, made it feel incomplete.
Since then, the Outlook team blogged about the forthcoming Facebook integration (see LinkedIn, Facebook join the Outlook 2010 Social Connector (The what?) on the Outlook team blog), and Facebook + Microsoft have been working closely to bring Facebook to the Outlook Social Connector.
Today, the Facebook provider lights up for Outlook users!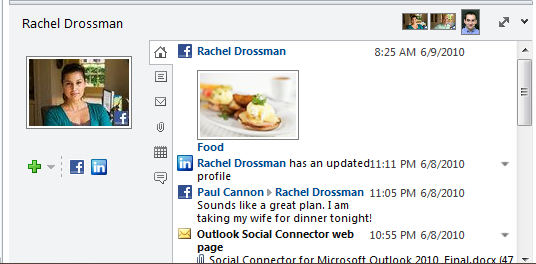 You can download the Microsoft Outlook Social Connector Provider for Facebook from the Download Center. The provider is available for both 32-bit and 64-bit versions of Outlook. And all this social goodness isn't limited to Outlook 2010— the latest and greatest version of Outlook. Microsoft announced Outlook Social Connector is also available for Outlook 2007 and Outlook 2003 [download], so you can get social even if you're using an older version of Outlook! More details in Connect your Inbox to Facebook and Windows Live with the Outlook Social Connector on the Outlook team blog.
Also available today: The Windows Live Messenger provider.
What Facebook brings to Microsoft Outlook:
Profile Photos: Outlook 2010 and Exchange 2010 include GAL Photos functionality, which allows you to load photos into Active Directory (see GAL Photos in Exchange 2010 and Outlook 2010 and GAL Photos: Frequently Asked Questions on the Exchange team blog). The photos are displayed in Outlook 2010 in the Address Book/GAL, when hovering the mouse over sender/recipient names, and in the Outlook Social Connector interfaces. The ability to put a face to a name is invaluable in business and social interactions, and GAL Photos makes this happen within an organization (and for external recipients that are added as Contacts to your organization's GAL). However, it does require you to upload thumbnail photos to Active Directory. With Facebook integration, profile photos from Facebook can now be displayed in Outlook, without the need to create contacts or upload photos to Active Directory.
Real-Time Status Updates and Wall Posts: Outlook users are able to see real-time updates, activity feeds and wall posts of their contacts from within Outlook. The feeds can help you have a better interaction with your contact. Having the activity feeds within Outlook also means users won't have to open a browser and login to Facebook frequently to check the activity feeds.
Invite Friends: Users are able to add contacts to their Facebook friends list from within Outlook.
What's Missing? Sending Friend requests to Facebook users is the only modification you can make to your Facebook profile in this release. You can't Like your friends' posts or photos, nor add your own comments from within Outlook (something to look forward to in the next release! :).
Facebook's Richard Armburst on bringing Facebook into Outlook:
What's unique is that it's bringing social elements and context from Facebook form your colleagues and your friends into the Outlook experience, which is pretty unique given that there are so many that use Outlook as their primary communiction tool.
How does the Facebook provider stack up? Acocrding to Mashable's Ben Parr, who got a sneak preview of the Facebook provider last week:
The entire experience is a step above the Outlook-LinkedIn integration, which itself was pretty strong.
For more details, screenshots and video, head over to Microsoft Launches Outlook Facebook Integration [Exclusive] on Mashable.