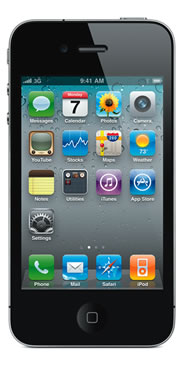 Users of Apple's new iPhone 4 phones or iPhone 3G, 3GS or iPod Touch users who upgraded to iOS 4 have been reporting issues synchronizing to Exchange Server using Exchange ActiveSync (EAS). The issue with Apple's latest mobile operating system, iOS 4, also results in additional load on Exchange Server, which may cause performance issues on Exchange 2010/2007 Client Access servers. The issue isn't limited to iPhone connectivity to Exchange Servers, but also extends to Google's Gmail service, which uses EAS to offer mobile email access.
iOS 4's default timeout for EAS requests is set to a very low 30 seconds, causing the requests to timeout and resulting in additional requests being made by the iOS 4 device.
Apple has released a configuration update that fixes some of these issues. The Apple kb article states:
Immediately after updating to iOS 4, some users may notice that Exchange ActiveSync Mail, Contacts, or Calendars do not sync, or sync very slowly. In addition, some Exchange Server administrators may notice their servers running slowly.
The update increases the timeout for EAS requests made by iOS 4 devices. In particular, the update modifies the DefaultEASTaskTimeout parameter to 240.0 (240 seconds or 4 minutes). Config files are XML, so you can modify this value to what's appropriate for your environment— although the 240-second timeout should work for most environments. If you feel it's inadequate, please share your experience in the comments section.
According to Apple, "the profile should be installed on as many iOS 4 devices at your company as possible." Head over to iOS 4: Exchange Mail, Contacts, or Calendars may not sync after update on Apple.com to download the config file.
7/15/2010: Apple has released iOS 4.0.1 which includes the configuration change for device timeout.