Finally, Apple announces Exchange ActiveSync Support.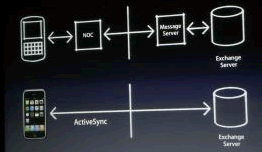 Phil Schiller, Apple's Senior VP of Marketing, announced minutes ago what many have suspected all along – Apple chose to go with Microsoft by licensing EAS. Schiller demonstrated EAS on the iPhone, including the ability to remotely wipe an iPhone.
Without taking names, Phil also criticized the BlackBerry approach of routing mail through its datacenter, and the accompanying risks and reliability issues. Devices compatible with EAS, including devices running Microsoft's Windows Mobile OS, can synchronize email, calendar, and contacts directly with an Exchange Server.
Terry Myerson, Microsoft's corporate VP for Exchange, met Schiller daily for 2 weeks to make the agreement possible. Says Myerson, "When it comes to mobile phones, Windows Mobile still delivers the premier mobile e-mail experience for Microsoft Exchange Server, by delivering the Outlook experience on a mobile phone and with the most complete support for Exchange's many enterprise device management policies. But, we also partner with many mobile device makers – including Apple – and believe that by making Exchange an open platform, our customers and partners, ultimately, will be the beneficiaries."
Update:
– The new iPhone 2 firmware with ActiveSync support will be released in June.
– Apple is accepting applications for its iPhone Enterprise Beta Program