At Zenprise, we do not revel in outages and issues that cause service disruptions or service deterioration for our customers. However, when such incidents do occur – whether in the Exchange messaging infrastructure or in BlackBerry service, we take pride in the fact that Zenprise is able to help customers by providing early warnings and timely alerts about such outages, or conditions that may lead to one.
The accolades are coming in, from customers and prospective customers alike. The difference between having Zenprise and not having Zenprise on the afternoon of 2/11/2008 couldn't be clearer.
An email from a satisfied customer – the Canadian subsidiary of a large consumer electronics manufacturer:
Dan, zenprise is amazing. For Feb 11's network outage. I was alerted immediately. When I called Rogers, they are not even been informed by RIM at that time. Thanks for the good monitoring software.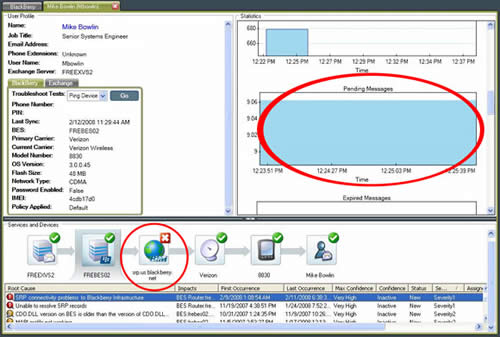 Figure 1: The end-to-end view of BlackBerry service shown in the Zenprise Console. Alerts for connectivity issues to RIM's SRP network and a high number of pending messages for a user are displayed in the above screenshot of the User Dashboard
An email from another organization that was affected by the outage (not a Zenprise customer):
"After having to call 2 different carriers the other day and waiting on hold for about 20 minutes each, I am ready for a change. These IT engineers and managers that are at their laptop most of the time don't understand how much our execs and sales people that are out on the road depend on their Blackberry. When RIM had the outage, our entire Management lead team was out of the office and every one of them only had their Blackberry with them. Needless to say, an hour after he called me the CIO was not too happy when I finally was able to give him a definite answer that the problem was with RIM's network. I have been trying to decide whether to send your message up to him, but I think I just answered my question as to whether I should. I'll get back to you within a week to give you an update."
Not to forget the accompanying media attention:


BlackBerry Outage Caused by Upgrade
TMCnet: Zenprise on BlackBerry Outage


InformationWeek: RIM Confirms BlackBerry Outage, Investigates Cause


ZDNet Exclusive: BlackBerry outage indicated by IP address connect refusals


CNBC: BlackBerry Outage Caused by Upgrade


BlackBerry Outage Caused by Upgrade


InfoWorld: Outage knocks BlackBerry users offline


BlackBerry Cool: North American outage reported


PC World: RIM's BlackBerry Service Getting Back to Normal


BlackBerry outage leaves 8 million users disconnected


Why Your Blackberry Crashed


Outage blamed on upgrade