Outlook Web Access, the web-based interface for accessing Exchange, turns 10 today! Released on May 23, 1997, as part of Exchange 5.0, OWA went by the name "Exchange Web Access" back then.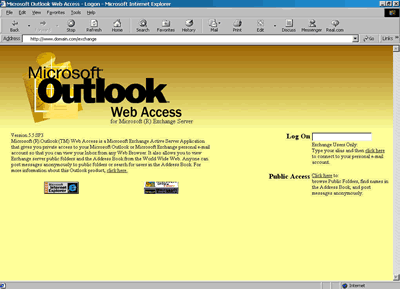 OWA has come a long way since Exchange 5.0 – abandoning its ability to live on a separate (non-Exchange) IIS server on the way (amongst other things), and gaining exciting new capabilities. Here's an interesting post on the team blog about the evolution of OWA – "Outlook Web Access – A catalyst for web evolution"
OWA 2003 was a huge improvement over OWA 2000 – it became my client of choice to access Exchange. It also became one of the reasons a few deployments I was involved with chose to upgrade – once remote users got hooked to OWA 2003, many didn't want to go back to Outlook client over VPN. (Yes, RPC over HTTP has been around since then, but in the absence of stronger authentication support like RSA SecurID, it's been a challenge to have security folks agree to such access in many cases).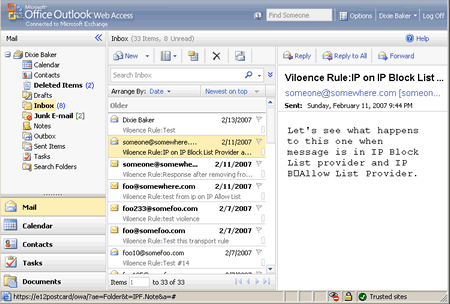 The shiny new OWA in Exchange Server 2007 is quite impressive – it's much closer to an Outlook client – including:
– capability to right-click items and get OWA/email related options (instead of those related to a web page)
– a "browsable" GAL/Address Book that was missing in previous versions (and added by third-party solutions like MessageWare)
– the Outlook-like behavior of new messages popping up without having to refresh
– the new OOF wizard with different OOF options for internal and external recipients and ability to restrict OOFs to a users' Contacts
– Junk Mail management options (Safe/Blocked senders)
– ability to manage Windows Mobile devices
– empty Deleted Items on exit/logoff
– and the less annoying pop-up meeting reminders to name a few.
(A more extensive list of the new features in OWA 2007 can be found in "Client Features in Outlook Web Access" in the product documentation).
Even "OWA Light" – the interface seen by legacy and non-IE browsers, is quite feature-rich and a pleasure to use.
The missing features like deleted item recovery, S/MIME support, Public Folder access, rules, etc. have been a thorny issue. Luckily, these are making their way back in SP1 [read previous post "Exchange Server 2007 SP1: A bag of goodies!"].
It'll be interesting to see what OWA has in store for E14 – the next version of Exchange (yes, I know Exchange 2007/E12 just RTMed, but that's the nature of software companies… with one product version shipped, it's time to work on the next one… :).