An employee leaves the organization and your organization requires that mailboxes be preserved for a certain period, ranging anywhere from two to seven years or more, to meet business or regulatory compliance requirements, including eDiscovery. Mailbox content should be preserved and discoverable using In-Place eDiscovery during this period.
Exchange Online allows you to use Inactive Mailboxes to preserve mailboxes of employees who are no longer with the organization. For tasks related to inactive mailboxes, see Manage inactive mailboxes in Exchange Online.
Why Inactive Mailboxes are only available in Exchange Online?
When a user leaves the organization, in an on-premises Exchange Server organization you can disable a user account and don't have to pay for a Client Access License (CAL) for such accounts.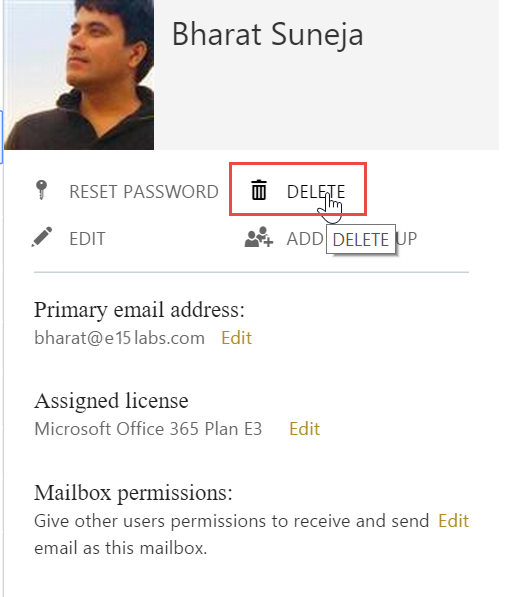 Figure 1: Deleting a user's Office 365 account allows you to recover it within 30 days. The account and its data is permanently removed after 30 days.
In Office 365 and Exchange Online, the only option was to delete the account. You can restore a deleted Office 365 account within 30 days. After 30 days, the account and it's data is permanently removed. To preserve mailbox content, you'd need to keep the account active and pay the monthly subscription fee for it, which can add up as the number of such accounts grow. Inactive mailboxes allow you to meet the requirement to archive mailboxes, without having to pay for such mailboxes.
What happens after you make a mailbox inactive?
After you make a mailbox inactive, it can no longer send or receive messages and your users will no longer see it in the GAL. Authorized personnel such as your legal, HR or Compliance officers with proper permissions can search its contents using In-Place eDiscovery. When you're no longer required to preserve it – let's say after two years or seven years, you can permanently remove the mailbox by removing it from Litigation Hold or In-Place Hold.
After the Inactive Mailboxes feature became available, the logical questions that followed were:
Can you provide another user access to an inactive mailbox?
Can you import contents of an inactive mailbox to another mailbox? This would allow a user who was taking over the responsibilities of the departed employee to consume and respond to messages (and other items, such as meetings) in the inactive mailbox.
If the departed user returns at a later date and their previous mailbox still exists as an inactive mailbox, can you restore it?
The new functionality to recover and restore inactive mailboxes meets these requirements. You'll need to use PowerShell to perform both procedures. Use New-Mailbox to recover an inactive mailbox and New-MailboxRestoreRequest to
restore an inactive mailbox (merge/copy/import content from the inactive mailbox to another mailbox).
You want to…
Restore an inactive mailbox
Recover inactive mailbox
Reactivate an inactive mailbox when a user returns
No
Yes.
The inactive mailbox is converted to a new mailbox.
Merge inactive mailbox content to an existing user's mailbox (and preserve the inactive mailbox as is)
Yes
No
Merge inactive mailbox content to a new mailbox (and preserve the inactive mailbox as is)
Yes
No

The recover and restore functionality completes the Inactive Mailbox workflow and further boosts the Archiving and Compliance feature set in Office 365.