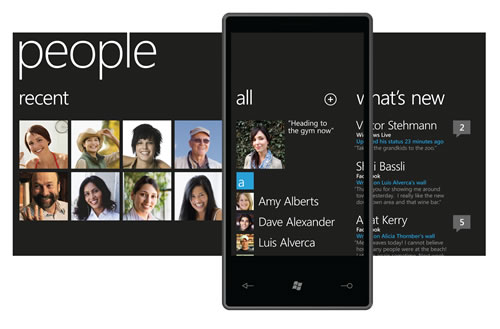 Terry Myerson, CVP – Windows Phone Engineering, announced in a blog post (interestingly posted on a Sunday) Windows Phone 7 has reached a "meaningful milestone"— what the team calls technical preview.
Over the next few weeks, thousands of prototypes from Asus, LG and Samsung will make their way to developers. However, although in the home stretch, there's much work left to do.
Congratulations to the Windows Phone team on an important milestone.
As Terry states (emphasis added):
We are certainly not done yet – but the craftsmen (and women) of our team have signed off that our software is now ready for the hands-on everyday use of a broad set of consumers around the world – and we're looking forward to their feedback in the coming weeks, so that we can finish the best Windows Phone release ever together.
I haven't had a chance to play with the current builds of Windows Phone 7, so I can't comment on it with any authority. From what I've seen in demos, screenshots and videos, the user experience does look very promising, and makes the iPhone/iOS look dated. (Every time I come across the iOS moniker, the only association that comes to mind is the OS that powers Cisco's network equipment. I'm sure over a period of time Apple's branding will resonate more).
Windows Phone 7 Reviews
Reviews from some of the folks who've actually played with Windows Phone 7 technical preview:
ZDNet's Matthew Miller in
Definitive Guide to the Microsoft Windows Phone 7 Technical Preview
I want to make it perfectly clear before you dive into the details that this is just a Technical Preview release of the Windows Phone 7 software and there is still some time before the release candidate will be complete so there are some functions that are not fully developed and there will most likely be bugs along the way. However, after using it as my primary device for five days I have yet to see ANY lockups, freezes, or resets on the Samsung device I am testing out. Actually, I am blown away by how stable this version of the software is because I have seen more issues with shipping devices running the iOS, Google Android OS, etc. than I have with this version of the software. It also helps that this Samsung Omnia HD-like device has a beautiful OLED display.
Here's a video from Matthew's in-depth review that runs you through the Windows Phone 7 user experience.
There's plenty more from Matthew, so head over to Definitive Guide to the Microsoft Windows Phone 7 Technical Preview on ZDNet.
Over on the SuperSite for Windows, Paul Thurrott writes in Hands on with Windows Phone 7:
There are people out there–haters, people who are so invested in Apple products, or Google, or whatever–that will try to convince you that Windows Phone is a disaster. That this product should be avoided at all costs. That it is a tired retread of what Apple first shipped in 2007. Those people, to put it simply, are wrong.

Here's the truth. Windows Phone may or may not succeed in the market place. I have no opinion on that, and believe it or not, I have no vested interest in it one way or another. What I do have is an opinion on the value of this system, an opinion about how it compares to today's leading mobile systems from Apple and Google. And I'm here to tell you that Windows Phone isn't just competitive. It's better. It's more innovative than anything from those other companies, and people will be shocked by how good the big picture stuff is on these devices.
Engadget has an indepth review and plenty of screenshots in Windows Phone 7 in-depth preview.
MobileCrunch's review comes with a note that this is not a finished product yet:
As is to be expected from an Operating System still months from release, there are lots of things that.. well.. don't work. In the sense of fairness in reviewing this crazy early, we won't be railing too much on the things that are obviously just unfinished. That'd be like walking in on a sculptor five minutes after they began their latest work only to yell "Hey! This is crap! It's just a block of cement with dents in it!"
InfoWorld editor Galen Grumman from slams Windows Phone 7 in Windows Phone 7: Don't bother with this disaster. The review begins with the writer's judgement:
There's no kind way to say it: Windows Phone 7 will be a failure.
You can probably judge where this review is going.
Interestingly, this is a complete about turn from Galen's previous review in March, Why I like Windows Phone 7 (so far):
The new operating system uses a radically different approach to organizing information and apps. It will take some getting used to, but I think there's a good chance that Microsoft is on to something powerful and that will bring real innovation that matters to the mobile market… But it's the first new major mobile platform that actually innovates in significant ways from the iPhone.
I asked Galen the reason for the sudden about turn. His response:
When I saw the sneak peak in Feb, what was omitted and vague was not yet ready to be criticized, as it was unclear what the final result would be. (That's typical for an early look.) Now Microsoft is showing a near-final OS that has major flaws, and the issues i criticized are ones that MS acknowledges, so it's not a question of being uncertain.
Overall, the reviews are quite encouraging, although InfoWorld doesn't surprise with its dramatic negativity.
In the end, user experience— the element by which almost every new device or app is judged these days, is not the exclusive domain of one company, and so far Microsoft seems to be proving that right with Windows Phone 7.