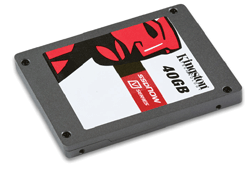 I've been waiting for the Kingston SSDNow V Series 40 Gb solid state drive (SNV125-S2/40GB).
NewEgg.com's 'ShellShocker deal' of the day— $84.99 (after a 20 dollar rebate), and free shipping. Unfortunately, they seem to be perpetually sold out! Shortly after the drive went on sale on Nov. 9th, NewEgg.com indicated it was sold out. The site informed me the drive would be in stock on Nov. 11th. Not to be deterred, I selected the option to be notified by e-mail when it's in stock again, hoping to buy it the instant I get a notification. The notification never arrived, and this morning NewEgg.com showed the drive was sold out again! A quick call to NewEgg revealed the drive's status went straight from showing an ETA to sold out. NewEgg.com doesn't accept orders for out-of-stock items. Which begs the question— was the item ever available? The rep wasn't able to confirm if they did in fact restock it or not, and NewEgg.com doesn't provide an ETA on this item any more.
Kingston announced the drive recently, and tech blogs have been buzzing up the NewEgg.com deal for days. The drive promises amazing performance gains (170 MB/sec sequential reads! Although the 40 MB/sec sequential writes seem to be a tad underwhelming in comparison, random writes should outpace hard drives.) and is intended to be used as a boot drive to dramatically reduce system boot times. Early reviews have been promising enough, and the price makes it hard to resist.
If you've been able to get hold of the Kingston SSDNow 40 Gb or a similar drive and taken it for a spin, do share your SSD experience.