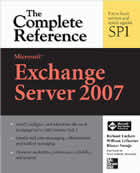 Searching previous blog posts, I am amazed that I never posted about the book being published early this last year! Yes, Exchange Server 2007: The Complete Reference, the book my coauthors (Exchange MVPs Richard Luckett and William Lefkovics) and I burnt a lot of midnight oil writing, was published soon after I joined Microsoft last year.
Given the breadth and depth of Exchange 2007, the number of new features, and the addition of Standby Continuous Replication (SCR) and other functionality in Service Pack 1, we went overboard with the writing— and to cut a long story short, you have 3 bonus web chapters available, absolutely free. Thanks to the awesome folks at McGraw-Hill Osborne. The bonus chapters include one of my favorite ones on "the shell".
1. Exchange Management Shell: PowerShell On Steroids
2. Designing An Exchange Server 2007 Infrastructure
3. Transport and Routing Topologies
You can download the bonus chapters from here.
Hope you have as much fun reading the book as we had writing it!