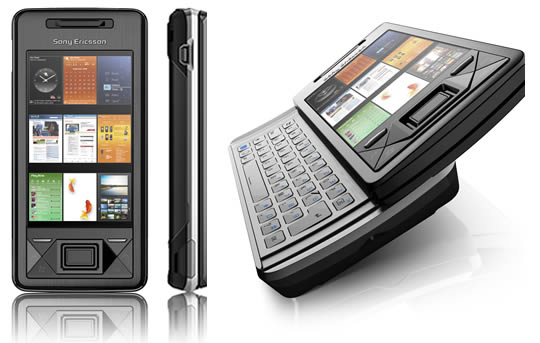 If you're in the market for Windows Mobile smartphones, your choices are going to grow at a rapid pace this year. Amongst the more exciting announcements at the Mobile World Congress in Barcelona – Sony Ericsson's first Windows Mobile phone, the Xperia X1. Yes, Sony finally jumps on the WinMo bandwagon.
The Xperia X1's all-metal body fits an arc slider design, a QWERTY keyboard, a 3-inch wide WVGA screen (800×480, compared to the iPhone's 3.5 inch diagonal at 480×320), a 3.2 megapixel digital camera that also does 30fps vga video. The phone supports aGPS, WiFi, quad-band GSM/Edge and UMTS/HSDPA/HSUPA.
The X1 supports a Touch interface, in addition to a 4-way key and an optical joystick. At 17mm, it's not as svelte as the 11.6mm iPhone. However, if it's the convenience of a full QWERTY keyboard (as in a "hardware keyboard" you can actually type those reasonably long emails on), a fast 3G network, Windows Mobile OS and Exchange ActiveSync support for mobile email you're interested in, this certainly looks like one attractive device.
The X1 will be available in the second half of this year, and probably won't be tied to a single wireless carrier.
More X1 details, specs and pictures on the X1 minisite. Also take a look at this image gallery on Engadget Mobile. As usual, Engadget's doing great job of covering these events, and the accompanying avalanche of new products and announcements.