I haven't posted too many updates from Zenprise lately. Zenprise v3.3 will ship soon, and the regular stream of customers throughout the year has been a great validation of Zenprise's approach to monitoring and real-time troubleshooting of Microsoft Exchange Server and BlackBerry environments.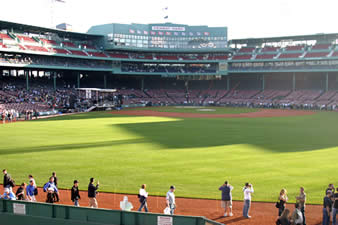 The exciting news – standing here during the attendee party at TechEd 2006, I couldn't have thought of this possibility. Yes! The Boston Red Sox became a Zenprise customer earlier this year (Go Red Sox!).
Al Sacco writes about the Red Sox's Zenprise experience in this CIO magazine article.
Excerpts:
Twenty-four/seven connectivity is a must for the 2007 world champion Boston Red Sox's behind-the-scenes champions, and the team counts on a mobile device management (MDM) product from Zenprise to ensure that its BlackBerrys never strike out.

"Within four days of having the product in, we were able to correlate root cause and be able to show ROI from that," Conley says. "Within a month, a problem that was ongoing for five to six months just disappeared." Better yet, he notes, fewer people were calling his team with problems. Instead, the Zenprise tool began offering early warnings on issues so he could report them to users before noticeable problems appeared.

Conley says that since the day his team installed Zenprise for BlackBerry, the Red Sox IT staff has been able to find root causes for every BlackBerry-related issue they've encountered, major or minor, and promptly address those issues with confidence that the suggested fixes will work.

Today, Conley has only one person who spends any of his time—a mere 10 percent—on BlackBerry support. Zenprise does the rest, he says. A year ago, two IT staffers handled BlackBerry support and the organization had only a quarter of the devices it supports today.
Read more on CIO.com: "Eyes on Zenprise: How the 2007 World Champion Boston Red Sox's IT Shop Keeps BlackBerrys in the Game".