MIIS (Microsoft Identity Integration Server) MVP Jason Sherry recently shared this script to export Calendar items, which should come in handy to export items from the affected "extended" DST period, before you start rebasing items.
In case something goes wrong during rebasing and appointments are off by an hour or two before or after their actual scheduled time, the output from this script should serve as a handy reference to determine the actual appointment times.
(Of course, as noted a few times earlier throughout my posts, adding the meeting time to the subject line of each meeting during this affected period should go *a long way* in "defending" yourself from any rebasing-related issues… however, the simplest solution is quite frequently the first one to be dismissed by many folks, including users and IT pros… – Bharat)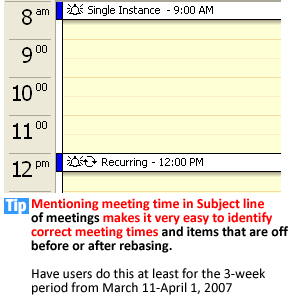 The script also has an option to disable Direct Booking of resource mailboxes while you rebase items. The account running this script should have Full Mailbox Access or Receive As permissions on mailboxes, (and just like requirements for the Exchange Calendar Update Tool – the account should not have Exchange Full Admin delegated to it, which creates a Deny ACE for Full Mailbox Access for the account).
The script uses MAPI, and like the rebasing tools – it should be run from a computer with Outlook installed.
Std. disclaimers from Jason: the script is a work in progress, please test in a non-production environment and use at your own risk.
Download ExportCalendar.vbs from here.
Download and read the documentation before you proceed.